At first glance Prowler Proof's Diamond designs look similar to other security screens. But have a closer look.
You'll soon notice that there are no visible joints – it looks and feels like the security screen is made in one piece. Which is not far from the truth. Prowler Proof's security screens are not held together by screws or rivets, they are welded. This adds strength…and good looks.
You can choose between Welded – where the grille and frame are the same, and you can select the colour you prefer from our extensive selection, or SnapLock – where you can choose any colour frame to complement the black grille. Both Diamond designs have been tested and passed the Australian Standard for security AS 5039.
Diamond Designs Product Sheet (2177 KB)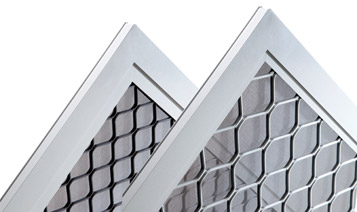 Security Door Features
Welded no screws or rivets and seamless corners

Very high security

Heavy duty aluminium frame and mesh

Corrosion resistant
Diamond Security Doors Product Range
SnapLock Large Diamond
SnapLock – or Black Diamond – lets you combine black mesh with any colour frame. SnapLock Large Diamond has larger openings and is slightly more economical than the Small Diamond version.

Welded Large Diamond
Welded Large Diamond is slightly more economical than the Small Diamond. Still it's stronger, looks better and is more corrosion resistant than any other brand of diamond design on the Australian market.